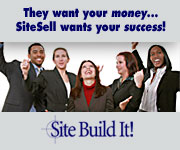 This is all about promoting your business niche in general, not just your own business. Do you know of any products or services that are relatively similar to yours? Or are they complementary to your line of products that you would recommend?

When you tell your present customers about these other complementary products or services, you are providing an additional valuable service for them. This will create a loyalty towards your business. People recognize the helpfulness, realizing that you are recommending a potential competitor, that is if your business does not carry the product that your customer inquires about. Parallel marketing increases the odds of that patron remaining loyal to your products on their very next purchase.

I use to have a Delivery and Moving business. Before I moved any of my customer's furniture, I would always check it for damage. When I saw any damages I would point it out to them and also would recommend a Furniture repair business that I would deliver for. A lot of them would take me up on my recommendation. I would receive a compliment for the recommendation upon my next conversation. They were happy and so was the Furniture repair place for the referral. This really helped me obtain even more business.

Here in San Diego, we have a Major college...UCSD. They do from time to time make available guest lecturers for their Alumni according to their course of study. This helps them further their education in their chosen field. The University does not do any solicitations at these lectures.They are of course aware by design that they are marketing themselves to the Alumni for possible future contributions.

You can say this is a subtle way of helping your customers. The chances of them making positive recommendations about your business increases. That is one of many goals in any business is to win over your customers loyalty where they will think twice about buying the products or services that you sell from anyone else.