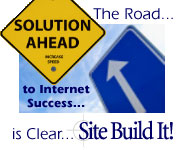 The answer is an emphatic "Yes". You might call it "The Ultimate Postcard".

Are you sending your products by snail mail? The Ultimate postcard is actually a personalized letter(on your letterhead) that you should send to your customers rather than a postcard. You would send a postcard to your customer(or email if you can) and/or do both. This is to let your customer know that their order is coming.

The postcard is or should be sent the day you receive the order from your customer. The order itself should go out the next day after the postcard is sent. That is a point to emphasize. Do not send them a postcard until your ready to send out their order the very next day.

The postcard is an excellent way to communicate to your customer that their order is on it's way. You can imagine how excited they will be when they find that out.

A postcard does very well, but when you personalize this with a letter as mentioned above...it has much more impact. The letter essentially says the same thing as a postcard does, however, you can say it much better and be more personable.

When you have a product driven business that has to be sent through the US postal system, Customer service has to be at a high level. This is particularly relevant to keeping your name in front of your customer. Remember, once you have a customer, you should do all you can to keep that customer for life. The reason is obvious if you want repeat business.